Description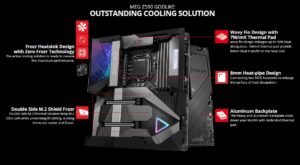 WAVY FIN DESIGN
Compare with traditional fin-array, the exclusive wavy fin design enlarges up to 50% heat dissipation, also enhances the airflow efficiency, increases the thermal performance significantly.
DIRECT 20 PHASES POWER DESIGN: 
Unleash and sustain maximum performance with a flagship VRM design built with a total of direct 20+1 digital power phases. Combining dual power connectors and 90A Smart Power Stage, MEG Z590 GODLIKE is ready for breaking the world record.
FULLY CONTROLLABLE IN BIOS AND SOFTWARE
MSI motherboards let you manage speeds and temperatures for all your system and CPU fans. Total Fan Control allows you check your primary system characteristics in a simplified graphical interface. You can also set up to 4 temperature targets for CPU and motherboard, which will adjust the fan speeds automatically.
FROZR AI COOLING
Detecting CPU & GPU temperatures and automatically adjusting fan duty of system fans to a proper value by adopting MSI AI ENGINE.
DIY 2.0 – INTEGRATING WITH THE SYSTEM ENVIRONMENT
Connect and synchronize with MSI coolers and cases with strategically positioned pin-header locations including a dedicated pump-fan header.